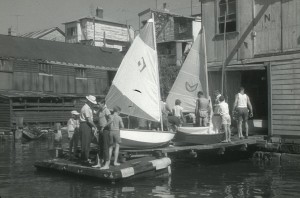 The Clubhouse, 103 Louisa Road, Birchgrove, 1962
On Sunday morning, February 4, 1962, eight small sailing boats gathered for the first race of Snails Bay Sabot Sailing Club. In the 1960s Snails Bay was lined with boat-related industries, from the Caltex terminal on Ballast Point, the southern arm of the Bay, to Morrison and Sinclair on the tip of Long Nose Point on the northern side.
In between were several lighterages with their barges, a number of small boatsheds where craftsmen boat builders worked and Nicholson Brothers Ferries where the big old ferry, the Sydney Queen, was moored.
The Club was the initiative of one of the Brothers, Stan Nicholson. He not only donated five sabots so the underprivileged children of Balmain could enjoy their birthright to learn to sail, but he also very generously allowed the club to use the boatshed behind his house at 103 Louisa Road.
The Club that day was very much a local and a family affair. The Club hero and vice Commodore was "wee" Georgie Robinson. He built at least three of the sabots that started that first race: his son, Ron, was the starter; and his grandson, Alan Robinson, and granddaughter, Rhonda Magner sailed that first race.
The Sabot is a small boat, just 2.4 metres long and 1.14 metres wide. Back then they were simply constructed out of plywood, and most were made by the families who sailed them. They had one sail and two crew, a skipper and a sheethand. In later years children aged over 12 years could sail one up. They were open boats with no bouyancy: once they capsized they could only be righted with external help. They were a very good preparation for the 12, 16 and 18 foot boats many boys would go on to sail. They were also reminiscent of the wide-bellied six footers that Wee Georgie and Balmain identities like Charles "Chook" Fraser sailed in Snails Bay at the beginning of last century.
Word spread quickly, and when the second season opened there were 25 boats and 150 members. One of them, Atom, had been built by 13-year-old Nick Masterman, who went on to become an Australian representative sailor and renowned builder of wooden boats. Another new member was Rob Brown, who would crew Australia II when it won the America's Cup in 1983.
Bruce Stannard argues the men who sailed the old open boats, the 18 footers like Wee Georgie's Britannia, could be described as bluewater bushmen. He wrote that, while it might sound like a contradiction in terms, "in fact the rough and ready Sydney Harbour sailors did embody many of the characteristics which were so readily ascribed to their country cousins".
He listed their courage and daring, "their reckless have-a-go spirit, their rough language, their intense personal loyalty and mateship" and their working class origins, and pointed out many crews came from the same families.
By the 1870s the open boat races were at least as popular as horse racing in Sydney, and perhaps the most popular Regatta of all was Balmain Regatta, held every year until the outbreak of World War 1 in 1914.
Wee Georgie's Britannia was one of the most famous 18 footers on Sydney Harbour in the period between the wars.
Stannard reports Britannia carried 2,800 square feet of sail, carrying a "mainsail, balloon jib, spinnaker, watersail, ringtail, topsail and God alone knows what else." The young Sabot sailors were in awe of the photographs of Britannia in full sail, and of the stories he told us about the six footers.
When Britannia's racing days were over, wee Georgie fitted her with a half cabin and inboard motor. We knew her as Britm our starting boat. Britannia was purchased by the National Maritime Museum in 1986, and restored by Arthur Griffith, whose son Alan was a club champion in his Sabot Viking.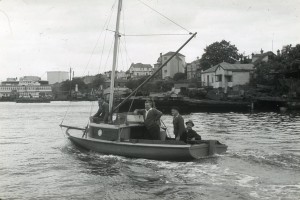 Britannia, Wee Georgie is second from the right, 1962
Stan Nicholson, who was also the Commodore, named all his donated boats after wild flowers: Waratah, Wattle, Rock Lily, Boronia and Native Rose. His brother, Eric, a vice commodore, together with G. Carlson also donated a boat. It was given a name, Propellor, in keeping with the Nicholson Brothers' habit of giving all their boats names with the prefix 'Pro'. Propellor has been restored and is now on display at the Wharf 7 Maritime Heritage centre at Darling Harbour.
In the early days the Club operated in the shadow of the 18 footers. Races started at 9.30 on a Sunday morning, so they would finish in time for everyone to board the ferries and go and watch, or participate in the Sunday afternoon 18s race. This had its advantages.
Every Sunday morning the bookies for the 18s would gather at the Snails Bay wharf, waiting for the ferry to take them to the afternoon race. They took an interest in the young sailors.
A report in The Link, dated March 14, 1962 stated: "The Club would like to express its appreciation for the very fine gesture made by the Birchgrove Sea Wall supporters last Sunday by donating to the Club the sum of 10 guineas. Thanks Boys."
A guinea was one pound one shilling, and 10 guineas was a handsome sum to donate in 1962.
That report in the Link also reported another notable event: "To the two girls, Misses J. Gillings and K. Middleton, congratulations on your first effort in the Native Rose. It won't be long before you are winning races."
Sailing in 12s, 16s and 18s was in those days before equal rights was a male-only affair. But Sabots enabled girls who could previously only come on board for ladies day races, to get their hands on the tillers. There was no shortage of girls keen to sail, and many did so with distinction.
Ardyn, known as Poss, Masterman went on to become Club Champion in 1966/67. The following year Vicki Gilling was Club Champion in Surprise.
Shipbuilding and the engineering trades were, for more than one hundred years, "the mainstay and mainspring of Balmain's industrial life," according to P.R Stephensen. In 1965 he wrote:
"The people of Balmain have a strong feeling of local pride, with traditions of toughness, cheerfulness, sportsmanship, and self-dependence, due to their peninsularity, which sets them a little apart from Sydney City; but their feeling of local pride is enhanced by the fact that Balmain has among its residents a larger proportion of workmen skilled in shipbuilding, engineering, stevedoring, and waterfront trades generally, than could be found in any other suburb of the Harbour frontages."
But within a decade, the lifetime of the Club, Balmain changed. The waterfront industry that was the lifeblood of the suburb would shut down; the families that had lived for generations in the same streets would begin to move out and go in different directions, under the pressure of gentrification.
Max Solling and Peter Reynolds, in Leichhardt, on the Margins of the City, wrote that, between 1966 and 1971: "The proportion of blue-collar workers in the labour forces in Sydney's inner suburbs fell by up to 15 per cent, compared with 5 per cent across the whole metropolis. At the same time the percentage of professional and upper white collar workers in the Sydney population rose 0.5%." In Balmain it increased 6 per cent.
Stan Nicholson died in 1969 and the Club was evicted from his boatshed.
Morrison and Sinclair ceased work in 1970, and their site is now a park. By then Tay Lighterage and Clyde Lighterage had gone. Stannard Bros had taken over Nicholson Bros in January 1968.
The old boatsheds, industrial sites, the vacant lots and houses of Louisa Road, no matter how shabby, were skyrocketing in value and the fabric of the old suburb had changed.
After several years of temporary use of Dodds' boatshed on Louisa Road, the Snails Bay Sabot Sailing Club was was welcomed on the other side of Iron Cove to become Drummoyne Junior Sailing Club in 1973.
Hundreds of children sailed at Snails Bay Sabot Sailing Club in the decade of its existence. Some went on to to greater sailing glory, others never put a foot in a boat again after their sixteenth birthday. All were privileged to share in the great sailing tradition of Balmain.
Bruce Stannard, Bluewater Bushmen, The Heritage Press, 1981
P.R Stephensen, The history and description of Sydney Harbour, Rigby Limited, 1966
Max Solling and Peter Reynolds, Leichhardt, on the Margins of the City, Allen & Unwin, 1997
 Published in the Penisula Observer, The Balmain Association, December 2013