For a century Balmain was the hub of boat building and other waterfront industries, as well as the associated leisure activity of sailing.
Snails Bay lies between Louisa Road and Wharf Road Birchgrove. It also lay between two of the largest employers in the southern hemisphere. Mort's Dock, in Mort Bay immediately to the south, was the largest single employer in nineteenth-century Sydney, with up to 1350 workers. It closed in 1957. To the west lies Cockatoo Island, home to Cockatoo Dockyard between 1857 and 1991. Over that period more than 12,000 ships were docked there, hundreds of vessels were repaired and built, and tens of thousands worked there.
Many of those who earned their living working on boats also loved to sail them for pleasure.
Carlin de Montfort writes in the Dictionary of Sydney that while yachting in England was the province of the ruling classes, in Sydney many working men sailed. "Early nineteenth-century sailing races were an extension of working maritime practices, reflecting Sydney's focus towards the harbour and the sea."
And the famous open sailing boats of Sydney Harbour were built by the men who sailed them.
By the 1870s, when open boat sailing races were as popular as horse racing, Balmain hosted three annual regattas, including one in Snails Bay.
Crowds lined the foreshores and crowded onto ferries to watch the races and the annual regattas of Sydney's sailing boats. Betting on the races, although illegal, was rife. The racing boats made for a great spectacle. The boats carrying huge sails reached thrilling speeds. There were capsizes and altercations, and bitter competition between the boats.
The boats were wide of beam and carried enormous areas of sail. The Sydney boats reputedly carried a greater area of sail, for the size of boat, than any other type of boat in the world. Some, like the 18 footers, needed an entire football team to crew them.
The little six footers that sailed in Snails Bay, for example, were six feet or 1.8 metres long and six feet wide. They carried a 3 metre long bowsprit and their masts were almost 6 metres tall. Their booms were twice the length of the boat. One of the most successful six-foot sailors was Wee Georgie Robinson. He went on to achieve fame as builder and skipper of the 18 footer Britannia. In later life he was an umpire, teacher and inspiration to the children who sailed in Snails Bay Sabot Sailing Club.
In 1962, Stan Nicholson, supported by wee Georgie, his son Ron, and other local sailors, set up the Snails Bay Sabot Sailing Club in the boatshed of Stan's house at 103 Louisa Road for the children of the area.
Back then Snails Bay was ringed with boating industries and activities, from Morrison & Sinclair on Long Nose Point, to Fountain's Boat Yard at 5 Wharf Road. Jubilee Engineering, next to Morrison & Sinclair, was the mooring for a series of RW Miller ships, then came Clyde Lighterage (which operated lighters, small boats that carried goods from the ship to the shore) and a number of smaller boat builders and boat sheds along Louisa Road. They included Hancock's boat shed, and Bidgee Holmes' yard.
On the other side of Birchgrove Oval were boat builders Bob and Jack Griffith, Tay Lighterage, and the largest business in the Bay, Nicholson Bros Harbour Transport. Wharf Road ended in Ballast Point, then home to the Caltex Depot.
Today, of all those industries, only the Fountain's boatshed remains. Len Fountain's sons, Cliff and Warren, have just built the hull of what is likely to be the last wooden boat built in Snails Bay, a 42 footer, named Lena.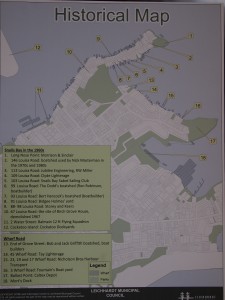 Snails Bay in the 1960s
  1. Long Nose Point: Morrison & Sinclair
  2. 146 Louisa Road: boatshed used by Nick Masterman in the 1970s and 1980s
  3. 113 Louisa Road: Jubilee Engineering, RW Miller
  4. 109 Louisa Road: Clyde Lighterage
  5. 103 Louisa Road: Snails Bay Sabot Sailing Club
  6. 99 Louisa Road: The Dodd's boatshed (Ron Robinson, boatbuilder)
  7. 93 Louisa Road: Bert Hancock's boatshed (boatbuilder)
  8. 91 Louisa Road: Bidgee Holmes' yard
  9. 88- 98 Louisa Road: Storey and Keers
10. 67 Louisa Road: the site of Birch Grove House, demolished 1967
11. 2 Water Street: Balmain 12 ft Flying Squadron
12. Cockatoo Island: Cockatoo Dockyards
13. end of Grove Street: Bob and Jack Griffith boatshed, boat builders
14. 45 Wharf Road: Tay Lighterage
15. 23, 19 and 17 Wharf Road: Nicholson Bros Harbour Transport
16. 5 Wharf Road: Fountain's Boat yard
17. Ballast Point: Caltex Depot
18. Mort's Dock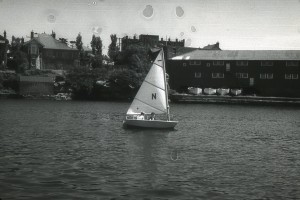 1. Morrison & Sinclair
photo. Boronia (skipper Terry Janzen) sails past Morrison & Sinclair, November 1962
  The boat-building business Morrison & Sinclair was set up in the 1890s. It was originally based in Pyrmont. In 1918 it moved to Long Nose Point.   
  The  company  focussed on building wooden boats. It built a number of wooden ferries, as well as boats for private purposes.
  In 1939 Morrison & Sinclair launched its biggest passenger ferry, Proclaim, which was built for Nicholson Bros. Proclaim was used mostly for the picnic trade, and it was particularly popular with the crowds that followed the 18-foot sailing boat races.
  In 1969 business was declining. Graeme Andrews in 'The Watermen of Sydney, Memories of a Working Harbour', wrote the decline was due to "the changing needs of shipping and the decrease in business associated with the introduction of new materials for building recreational boats".
  The company ceased operations in 1970.
In 1971 the State Planning Authority bought the site, and turned it into a park. All that remains of Morrison & Sinclair is a plaque outlining its history and a slipway at the end of Longnose Point.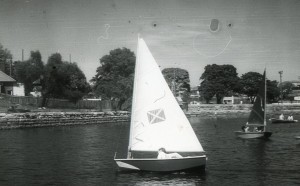 2. Nick Masterman
photo: Nick Masterman in Atom, Snails Bay, November 1962
Nick was a foundation member of Snails Bay Sabot Sailing Club in 1962. At the age of          just 13 he built his first boat, a Sabot called Atom. He soon moved on to sail 12  footers    at Balmain 12 ft Flying Squadron, and successfully represented Australia in that class.  
His younger sister Ardyn became Club Champion sailing Atom in 1966/67.
Nick took up an apprenticeship at Cockatoo Dock, where he was exposed to asbestos fibres. He won a Rotary scholarship to Japan as a naval architect. In the early 1980s Nick became an independent wooden boat builder, setting up his workshop at 146 Louisa Road. He learnt skills and purchased equipment from retiring boat builders, and using old techniques built simple clinker dinghies. He also restored old boats, including the steam yacht Ena. He won wide recognition for his skills.
Nick was instrumental in reviving the Balmain Sailing Club and setting up the Balmain Sailing School. Nick was a Leichhardt Council alderman between 1991 and 1993. He died in 1994 of mesothelioma.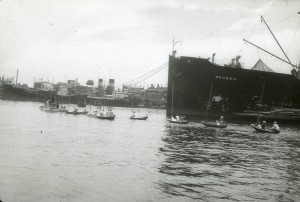 3. 113 Louisa Road: Jubilee Engineering, a subsidiary of RW Miller and Company.
photo: Sabots being towed home on a windless day. RW Miller boat in the background, left. March 1963.
Robert William Miller developed an interest in coal mining in the Hunter Valley.  In 1908 he won the contract to remove spoil from the Balmain Colliery. The name Jubilee probably came from one of the Balmain coal shafts.
His son, Roderick, built up an empire of tugs and lighters (barges that transferred goods from larger boats to shore) and coal ships. The ships had a large M on the funnel. Snails Bay was where his '60 milers' were first unloaded. 60 milers carried coal from Newcastle to Sydney, a distance of just over 60 nautical miles. Several of his 60 milers sank at sea, including the Amanda Miller in 1929, with the loss of 6 of the 12 crew, and the 640 tonner Birchgrove Park, which sank off Barrenjoey in August 1951. Ten of the 14 crew, some of them Balmain men, were lost.
Roderick exanded his fleet to take on foreign ships active in the Australian tanker trade. He imported several large tankers and commissioned the construction of the largest ship ever built in Australia. The 66,800 ton tanker was named the Amanda Miller, after his daughter. Roderick was knighted for his efforts on behalf of Australian shipping in 1970. He died the following year.
He also had interests in brewing and hotels.
4. 109 Louisa Road, Clyde Lighterage.
Clyde Lighterage, run by the Stevens family, operated three small steam tugs. The family lived at 109 Louisa Rd, Long Nose Point, from 1927 until 1962 and the tugs were tied up in front of the house in Snails Bay along with about 10 lighters.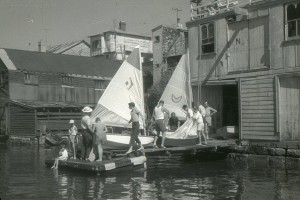 5. 103 Louisa Road, Snails Bay Sabot Sailing Club
Photo: Snails Bay Sabot Sailing Club, clubhouse, 103 Louisa Road, Birchgrove, December  1962
Snails Bay Sabot Sailing Club was set up by Stan Nicholson in February 1962. He not only offered the boatshed behind his house at 103 Louisa Road as the Clubhouse, he commissioned wee Georgie Robinson to build five Sabots for the local children to sail.
Word spread among the local sailing families. Eight boats started the first race. By the beginning of the next season there were 25, by the next there were 36. Most were home built, the Sabot was designed to be an inexpensive little boat.
The course was designed so it could all be viewed from the clubhouse: the buoys were placed in front of the club house; near Balls Head; Goat Island and off Ballast Point.
The young sailors, aged between 5 and 16, also had to negotiate around commercial shipping and the ships moored on the wooden dolphins in Snails Bay.
Stan Nicholson died in 1969 and the club was evicted. After several years of temporary use of the boatshed of the Dodds family at 99 Louisa Road, the Snails Bay Sabot Sailing Club moved to Drummoyne in 1973 and changed its name to Drummoyne Junior Sailing Club.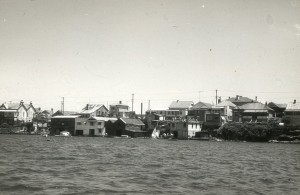 6, 7 and 8: 91 to 99 Louisa Road, boatsheds.
photo: From the left along the waterfront: Bidgee Holmes' yard, Hancock's shed (boatbuilder), the white shed belonged to Tom and Jean Middleton, the double dark shed was Dodd's shed (used by boatbuilder Ron Robinson), Snails Bay SSC boatshed. December 1962.
Bidgee Holmes and Bert Hancock were local boat builders. A number of local boat builders used Dodd's shed, including Ron Robinson who built the first Sabots there, as well as a number of 18 footers and 16 footers. Dodd's shed became the temporary home of the SBSSC after Stan Nicholson died in 1968.
9. 88- 98 Louisa Road: Storey and Keers
Storey and Keers was a ship repair company providing a wide range of services. Many Balmain people worked there, and many boys served apprenticeships there. It still has an office in Balmain and a worksite in Port Kembla.
10. 67 Louisa Road: the site of Birch Grove House.It was the first house in the area, built in 1810.
It was demolished 1967. At the time, it was the second oldest house in the country.
11. 2 Water Street Balmain 12 ft Flying Squadro
The forerunner of the Balmain Sailing Club was founded in 1885. Its sailing fleet comprised a range of open boats, from six to 22 footers.
In the 1960s the club was known as the Balmain & District 12 ft Flying Squadron, and only raced 12 footers. The Club was licensed and hosted poker machines and dances. By the late 1980s the
12ft fleet had dwindled. A group of locals re-established the club in 1995. Today it runs mixed fleet races of dinghies and keelboats, as well as a Sailing School. The Club prides itself on being friendly and inclusive.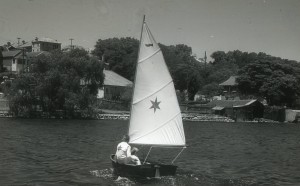 13. end of Grove Street Bob and Jack Griffith boatshed, boat builders
photo: Little Scamp, (Alan Robinson and Rhonda Magner, grandchildren of wee Georgie Robinson). The Griffiths' boatshed is to the right.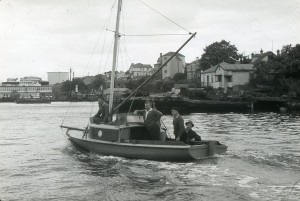 14. wee Georgie Robinson
photo: Brit (formerly Britannia), left to right: unknown, Eddie Isberg, wee Georgie Robinson standing, Stan Reeves. November 1962. Wharf Road in the background, remains of Tay Lighterage barges to the right, Nicholson Bros and Caltex to the left.
Wee Georgie Robinson – so named because he stood just over five feet (152cm) tall – was a Balmain legend. He began his sailing career in Snails Bay six footers. In 1918 he built his 18 footer Britannia. Britannia carried 2,800 square feet (260 sq metres) of sail: a "mainsail, balloon jib, spinnaker, watersail, ringtail, topsail and God alone knows what else," according to sailing writer Bruce Stannard. He describes Britannia with her sails "towering over a hull just 18 feet (5.4m) long and a mere 8ft 6inches (2.6m) wide. When she was sailing in a breeze of over 18 knots Britannia often carried a crew of 14 burly men and a boy whose sole job was to keep the well more or less dry." In its 26 years racing, Britannia sailed 691 races and won 41 titles and cup races.
When Britannia's racing days were over, wee Georgie fitted her with a half cabin and inboard motor and shortened her name to Brit. Wee Georgie trained umpires at Snails Bay Sabot Sailing Club and taught children how to sail. Jack Thomson, whose sons and daughter sailed at SBSSC recalls wee Georgie, at 80 years of age, saying "I am still learning to sail even now".
Britannia was purchased by the National Maritime Museum in 1986, and restored by Arthur Griffith. It is currently on display at the Museum.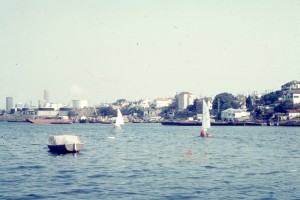 15. 23 Wharf Road, 19 Wharf Road and 17 Wharf Road. Nicholson Bros Harbour Transport
photo: Snails Bay Sailing Club Herons sailing in Snails Bay. Wharf Road in the background. Around 1967
Nicholson's Harbour Transport began when John Nicholson aquired his first ferry, Promise, in 1911. That began the tradition of naming all their vessels with the prefix 'Pro'. They moved to 19 Wharf Road, Snails Bay in 1913, and his sons, Stan and Eric, took over forming Nicholson Bros.
By 1925 they had 10 passenger-carrying launches, one ferry, a cargo lighter and a number of line handling launches. They began their first ferry service in 1939 to Balmain.
During World War 11 they converted private craft for war use.
The boatbuilders grew to run the largest private ferry service in the Harbour. They expanded to 23 and 17 Wharf Road, providing housing for some of their key workers.
Nicholson Bros also manufactured anchors and other equipment.
In 1968 Stannards acquired the business and continued to operate in Snails Bay until 2002
16. 5 Wharf Road: Fountain's Boat shed
Boat builder Len Fountain began next door, then moved to what had been Bowcock's yard in the early 1960s. Over his career his sons Cliff and Warren, who now run the yard, estimate he built more than 50 timber boats. The shed also provides boat repair services. They have never had to advertise, all their business has come from word of mouth.
Cliff, who was apprenticed to his father in 1960, said that at that time Snails Bay was "full of timber ships, old steam winches, a lot of harbour lighterage and a lot of logs being towed around the place, a lot harbour transports."
Fountain's Boat Shed retains the original buildings and slipway. It is last, and only, boat industry operating in Snails Bay.
Cliff and Warren no longer build boats, because people want fibreglass hulls. But they are building one last boat, a 42 footer, from Huon Pine and spotted gum, named after their grandmother. On the transom it says: Lena, Snails Bay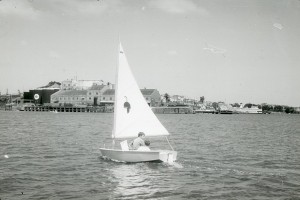 17. Ballast Point: Caltex Depot
photo: Niord (skipper Karen Armstrong). In the background behind Niord is Caltex on Ballast point. To the right is the ferry Sydney Queen, moored at Nicholson Bros. December 1962
Ballast Point was resumed in 2002, and developed into a public park.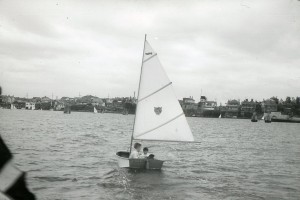 photo: Tiger (skipper Larry Cargill) sailing into Snails Bay, Louisa Road on the right. November 1962.
All photos are by Gil Wahlquist.
April 11, 2014